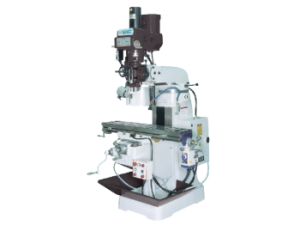 Vertical milling machine
ONLY £6200! While stocks last!
Italian built echoEng FV 100 VS Vertical Milling Machine suitable for engineering workshops and fabrication shops. Well built in Meehanite cast iron, fully compliant with European standards, the FV100 VS has a table working size of 1067 x 230mm and x/y/z table travel 736-305-406.
DESCRIPTION
High tensile and stress relief meehanite castings are adopted on main frame and components

All axis box ways are hardened and precision ground

All mating surfaces of slide ways are precision scraped and coated with Turcite-B
STANDARD EQUIPMENT-Vertical Milling machine
Speed variator,
Cooling equipment,
Work lamp low voltage,
Automatic pneumatic tool attachment,
X axis with motor power feed,
Centralized lubrication,
Chip tray,
Service wrenches and user's manual.
TECHNICAL DATA
| CHARACTERISTIC | UOM | VALUE |
| --- | --- | --- |
| Table working size | mm | 1067 x 230 |
| X/Y/Z Table travel | mm | 736 – 305 – 406 |
| Longitudinal table feed | mm/1' | 0/700 |
| Cross table feed | – | manual |
| Vertical table feed | – | manual |
| Table T-slots | mm | No. 3 – 16 |
| Distance spindle to table | mm | 57/463 |
| Distance spindle to upright | mm | 213/533 |
| Spindle attachment | No. | ISO 40 |
| Quill diameter | mm | 86 |
| Quill travel | mm | 127 |
| Automatic feed | mm/1' | 0,04 – 0,08 – 0,15 |
| Speed range with speed variator | Rpm | 50/3500 |
| Spindle motor power | kW | 2,3 |
| X/Y/Z feed motor power | kW | 0,5/-/- |
| Cooling pump power | kW | 0,12 |
| Ram travel | mm | 320 |
| Ram swivel | – | 360° |
| Head swivel | – | 90° |
| Head swivel F/B | – | +/-45° |
| Electrical supply | Volt/Hz | 400/50 3 PH |
| Overall dimensions | mm | 1950x1450x2000 |
| Weight | kg | 950 |
FV 100 VS – VERTICAL MILLING MACHINE
October 20, 2017
Categories: